Beyond the cordillera, Heart of the island.
Traveling along Route 3 can lead you to discover the depths of the island. Ushuaia is the only trans-Andean city in our country; this means that to access the north of it, leaving from Ushuaia, it is necessary to cross the Andes through the Garibaldi Pass. Between curves and counter-curves, the pass goes up the road until it reaches, at the highest point, a viewpoint that allows you to appreciate the never better named Escondido Lake and behind it, the immense Fagnano Lake, also known as Khami Lake in the Selknam language.
Lake Khami has an extension of 104 kilometers and is divided by the imaginary line that separates Argentina from Chile; it is a binational lake. The excursions departing from the city of Ushuaia take you to see these landscapes that change their morphology as they move away from the Cordillera. Kayaking, hiking, flora and fauna watching are some of the activities that can be done in this area.
Lakes Circuit
From the panoramic viewpoint at Paso Garibaldi you can see, behind the Escondido, Lake Khami or Fagnano, one of the largest lakes in the country, which shares jurisdiction with Chile.
The surroundings of the small and young city of Tolhuin - a name that comes from the Selknam language and refers to the idea of heart - offer the environment for activities such as sport fishing in streams and lakes where various types of trout live, or to experience rural tourism. This area is characterized by the presence of ranches that open their doors to share the activities they carry out there and to know their shearing sheds, walk the roads and enjoy a typical meal; it is necessary to book in advance through the agencies. You can also go horseback riding along different trails combined with other activities.
Khami Lake is surrounded by three reserves/protected areas of great importance for the conservation of bird species: the "Corazón de la Isla" reserve, the Río Valdez reserve and the Laguna Negra reserve; the latter has an interpretative trail that narrates the particularities of the place and the species that make it up.
A few kilometers from the city of Tolhuin is the Jeujepen Hill. Climbing 300 meters you reach the viewpoint that offers an incredible panoramic view of the ecotone. You can continue ascending by a path of greater difficulty that takes about 3 hours to the summit.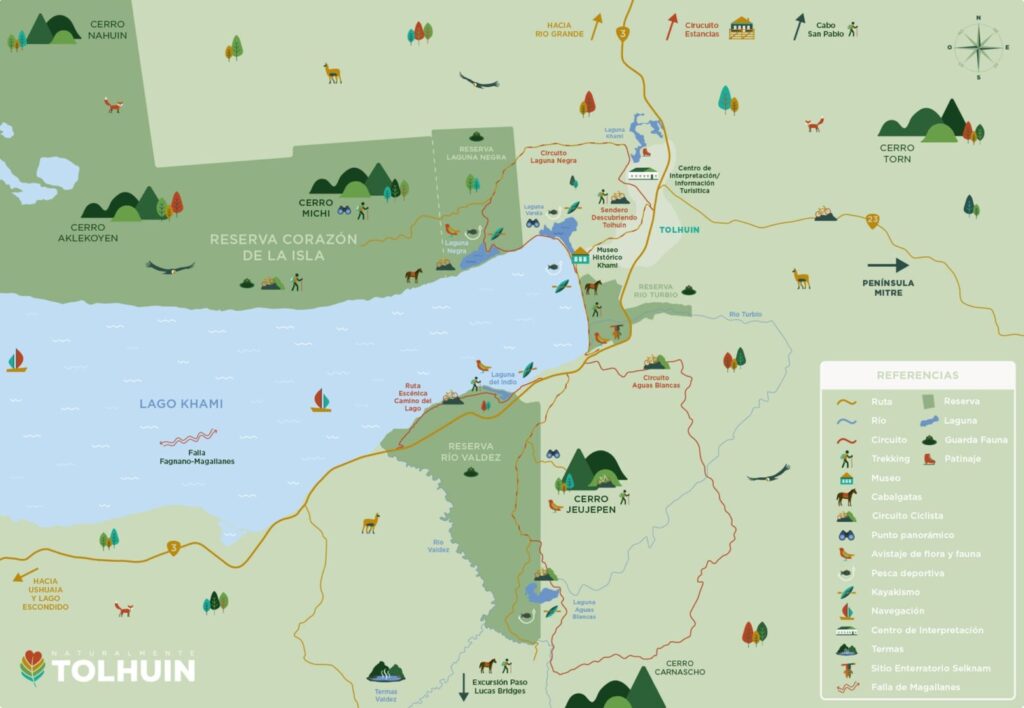 The city of Tolhuin offers lodging, restaurant and transportation services.