The magic of nature a few minutes from the city
The Martial glacier is an icon of Ushuaia. It is located within the Natural Reserve that bears the same name, just 7 kilometers from the center and offers all kinds of activities to enjoy nature: in winter alpine skiing and snowboarding are the preferred ones and in summer it is placed as one of the most accessible sites to enjoy hiking. In addition, you will find restaurants open all year round.
The Martial is a circus glacier due to its shape similar to an amphitheater or semicircle. It is located about 1000 meters above sea level and its name comes from the commander of the French scientific expedition 'La Romanche' of 1882-1883, Louis Ferdinand Martial. It is currently a glacial remnant, that is, remains of a much larger ancient glacier. From there the Buena Esperanza stream is born, which constitutes an important source of drinking water for the city.
It can be reached by the winding Luis Fernando Martial street that goes up the mountain and offers panoramic views of the city and the Beagle Channel that surprise you at every bend. Along the way there are some hotels and restaurants. Before reaching the end of the road, there is the Francisco Jerman refuge and track of the Club Andino Ushuaia, where you can rent sleds, culipatines and cross-country skis and practice right there. You can also go up a mountain path that borders the Buena Esperanza stream, a few meters away from the paved road.
From there the trail that goes up to the glacier begins. The hike offers incredible panoramic views: the city, the bay of Ushuaia and Navarino and Hoste islands of Chile. At one point the path splits into two: to the right, a path that leads to the Cañadón Negro from where you can see the valley of Andorra, the Vinciguerra glacier and the Beagle Channel; the one on the left reaches the base of the glacier. You can continue climbing the glacier or take a hike on it, as long as you go with a specialized guide who brings you the equipment and the necessary experience.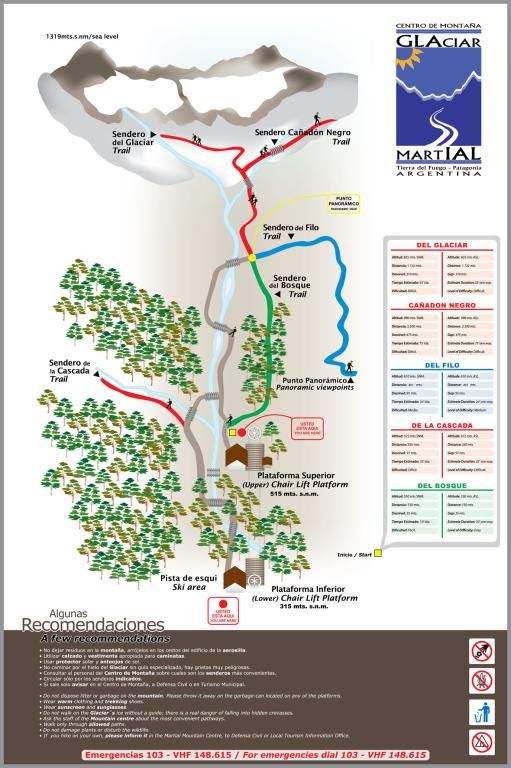 At any time of the year it is an ideal place to connect with nature without going too far.
Trekking recommendations
Choose trails according to the length of time, experience and physical condition you have.
Take walks in the company of one or more people.
Wear suitable clothing and footwear according to the terrain.
Good hydration and food.
Return with the waste.
Do not take your pets, we must respect the native fauna.
Do not make fire.
Stay within the trails, respecting the native flora that surrounds you, without cutting flowers or tree branches.
Start the walks in the morning or with enough light. Keep in mind that in winter we have a short day and the temperature drops a lot.